Tosei Kogyo Co., Ltd. aims to combine its outstanding expertise in the handmade tastes of the dumplings loved by people all around the world - gyoza, shaomai, wangtang, paoz, nikumaki meat rolls - with highly-efficient manufacturing processes.

Tosei Kogyo currently enjoys an outstanding reputation as a highly reliable top brand, both in our native Japan and in China, the home of dumplings, as well as the USA, Europe, Canada, Taiwan, Hong Kong, among others.

At Tosei Kogyo, we will continue to improve our technical capabilities through ongoing research in the pursuit of handmade taste.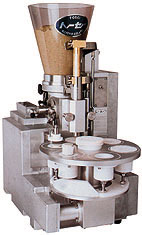 ・
Automatic Gyoza Forming Machine
・
Semi-automatic Gyoza Forming Machine
・
Automatic dough sheet making machine
・
Automatic Shaomai Making Machine
・
Semi-automatic Shaomai Forming Machine
・
Automatic Paoz Molding Machine
・
Wangtang Forming Machine
・
Compact Noodle Maker
・
Skin Maker
・
Mixer
・
Food cutter
・
Food Dehydrator
・
Apart from the above, we carry every kind of device related to gyoza.
・
We offer consultation services in regard to gyoza, Chinese cuisine, the opening of retail
facilities, menu creation, and much more too.
Please consult us on any topic; whether about manufacturing equipment and hardware or total management from layout of factory and retail premises through to menu item suggestions.
| | |
| --- | --- |
| | Our specialized staff, trusted and renowned in kitchens the world over, can offer a total production solution for opening your retail business. |
| | Please don't hesitate to enquire about anything from layouts designed to interior design solutions to raise your store's profile. |
| | We also offer services to help you develop menu items tailored to customer needs. |